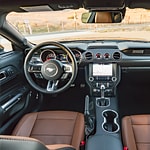 Sports cars already have an edge over other cars when it comes to performance, but the Ford Mustang also has a great array of tech features to give you even more reasons to buy it.
The Mustang has all kinds of cool things like voice controls and its own Wi-Fi hot spot to connect your devices. It also has access to some standard and optional driver assistance tech features from adaptive cruise control to pedestrian detection.
To get the tech features you want, take a look at what is included in the first and second trims of the Mustang, because that is where almost all of the tech features are, with the exception of a collection of them that is linked to a specific package that the second trim unlocks if you buy it.