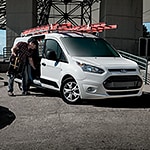 We don't typically associate tradesmen's vans or passenger vans with high IQ. The Ford Transit Connect defies this stereotype. Powerful and efficient enough to tow tons and save on fuel, this van also boasts cutting edge driver assist and tech features. Our Ron Carter Ford team has the highlights for you.
Banging Wi-Fi Wherever You Go
Your phone's mobile data connection is great, but a private, 24/7, in-vehicle Wi-Fi hotspot is even better. Controlled by FordPass, a unique in-vehicle modem, the Ford Transit Connect Wi-Fi hotspot is compliments of AT&T. It boasts 4G LTE data speeds on up to 10 connected devices over a 50-foot radius around the van. Reliable in-vehicle Wi-Fi also offers advanced, precise navigation and access to off-peak-hour emergency services.
Forward Collision Warning
Depending on the time and the day, commuting in Alvin presents its fair share of distractions. To help you avoid collisions, the Ford Transit Connect has Forward Collision Warning. Using camera technology, the Ford Transit Connect detects potential collisions up ahead of you, issuing both an audible warning and a visual warning on the actual windshield.